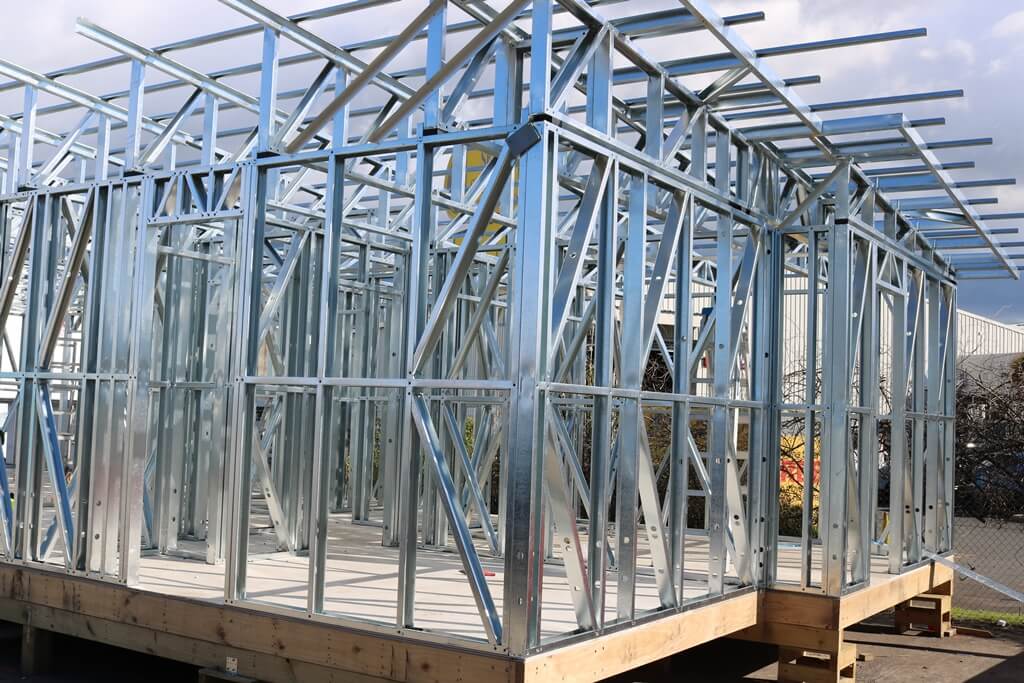 Steel has been the preferred structural material used in commercial construction for many decades and more recently has been introduced into new home framing in countries like Japan, the United States, Europe, Canada, Australia and now New Zealand.
Selected for it's lightweight structural strength, rigidity and impressive earthquake performance Steel Framing has truly come of age and is the preferred framing system for Golden Homes nationally.
Unlike traditional framed homes which are reported as containing high levels of contaminants such as arsenic, New Zealand made steel is a healthier choice. It's free of the harsh chemicals that are used to stop timber from rotting, and it can't harbour mould and mildew spores. For your family, that means less exposure to chemicals and fewer problems with allergies and asthma.

ZOG® is more than just steel framing, ZOG is a comprehensively engineered steel framing system that has been specifically designed for New Zealand's unique conditions and the demands of New Zealand families for a stronger, more durable, healthier living environment.
Because ZOG is manufactured locally from 100% New Zealand steel and ZOG manufacturing plants are strategically located throughout the country the ZOG Steel Framing System is able to be priced to meet the markets demand. What this means for you is that when you specify ZOG Steel Framing it will be at a price comparable to conventional timber, yet you receive all the unique benefits of steel:
A steel frame home will not twist, shrink or warp, significantly reducing the chance of unsightly plaster cracking, saggy ceilings, bowed walls and jamming doors or windows.
Steel frames and trusses will not burn and are electrically safe, significantly reducing the proportion of flammable materials in your home.
ZOG uses only quality Axxis New Zealand steel backed by the Axxis 50yr durability statement for high strength steel.
ZOG Steel Framing is manufactured using significantly fewer carcinogenic chemicals evident than traditional treated framing products. This results in a more environmentally stable and healthier home as there is no possibility for steel framing to harbor harmful moulds, mildews and airborne spores as with traditional wooden framing.